Things to do in Pu Luong Thanh Hoa Vietnam from A to Z
You are searching for somewhere to hide from the heat in your city and leave behind all the stress you have to deal with every day? It is not in any distant land but Things to do in Pu Luong Thanh Hoa are you can immerse in the wild beauty of mountains and forests, get some fresh breezes, and admire all the charming combinations of nature. Our travel guide to Pu Luong Thanh Hoa below will certainly give you all the necessary information to have a wonderful vacation with your friends and family this week.
 
The road from Hanoi to Mai Chau - Pu Luong - Tam Coc - Ha Long Bay - Hanoi
1. Pu Luong Thanh Hoa overview
Pu Luong, in the local language, stands for "the highest mountain peak". Pu Luong Nature Reserve belongs to both Ba Thuoc and Quan Hoa districts, just about 130 kilometers far from Thanh Hoa City to the north-west. 

With an area of more than 17.600 hectares together with a diverse system of flora and fauna, Pu Luong Thanh Hoa impresses tourists with the natural beauty of its primary forests, terraces of rice, and the peaceful life of the local ethnic minorities. It is a new attractive destination for any tourists loving nature and wishing to discover new lands in their journey.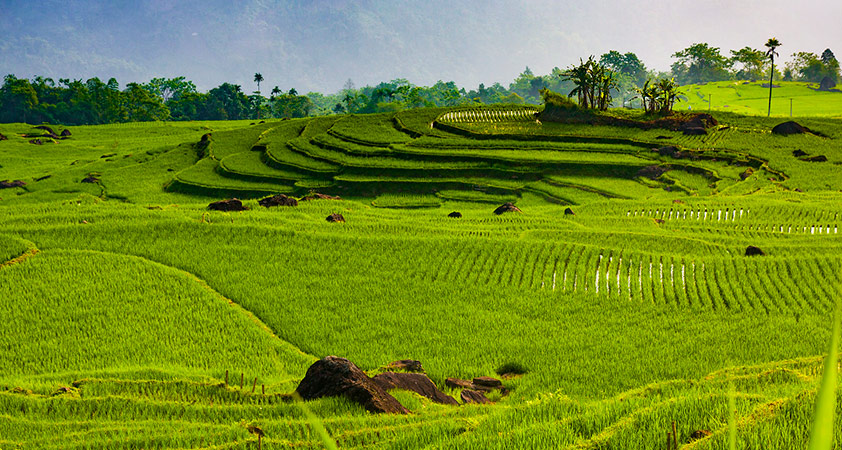 There are two main potential areas that have been developed into resorts: Son Ba Muoi (in Lung Cao Commune) and Pu Luong Peak (1700 meters high in Thanh Son Commune). Moreover, many famous attractions surrounding are also worth visiting such as Ban Lac Village (Mai Chau), Cam Luong Angelfish Stream, Cuc Phuong National Park (Ninh Binh Province), the Citadel of the Ho Dynasty (Thanh Hoa Province)... All of them have been connected to be an attractive tourism itinerary for both local and foreign tourists coming from all over the world.
2. When to visit Pu Luong Thanh Hoa
Tourists are supposed to visit Pu Luong Thanh Hoa in late May and early June when the season starts. All the terraces will be covered with the green color of young rice, which brings about a feeling of peace and tranquility. Although it is hot in summer in Thanh Hoa Province, Pu Luong still maintains a comfortable temperature thanks to its location on a low limestone mountain area, with many tropical rainforests and a sparse population.

September and October are the harvest time in Pu Luong Thanh Hoa. All the terraces on the uphill mountains will turn a glorious yellow and makes the place an opulent and dreamy area. At this time, thousands of tourists come to visit the attraction every year.
If this recommended time is not available for your schedule, you can also come to the place at any season around the year to have relaxing moments in an open atmosphere. Especially, there is always a thin layer of dew covering some villages at a certain height.
3. How to get to Pu Luong Thanh Hoa ?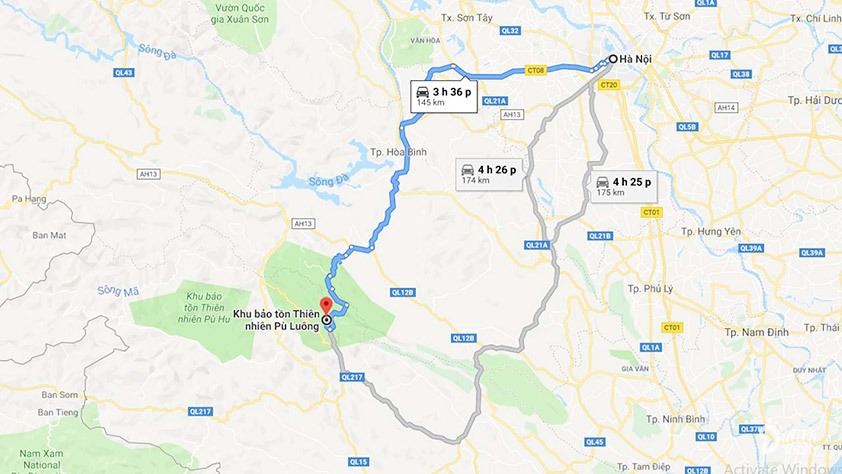 3.1. Public transportation
There is no direct routes to the destination if you choose to transfer by a public vehicle. Therefore, if you are not familiar with local transportation, it is not highly recommended because you have to make some transits on the journey. 

From Hanoi Capital City, tourists can take a car to the center of Bac Thuoc (Cang Nang town). Then, take a taxi to finish the 20-kilometer journey left. From Giap Bat Station or My Dinh Station in Hanoi, contact the driver Hoang Phuong at the number 0973737778.
3.2. Private vehicle
The most popular way to visit Pu Luong Thanh Hoa is by private vehicle (motorbike, car) that you can hire in Hanoi or have a tourism agency arrange. 

From your post to the destination, you should follow a closed road not repeat the journey you have made. From Hanoi, follow National Highway No.6 toward Hoa Binh Province, then you can have a choice of going through Lung Van cloud valley or Ban Lac Village Mai Chau to reach Pu Luong.

The road through Lung Van valley is quite narrow with crooked passes and slopes, but the landscape surrounding will certainly catch your eye for the first time seeing. You will have a chance to admire a number of cloud blocks covering the mountain bodies and an early dew layer floating in the valleys. It takes about four to five hours to finish the road.

After finishing Pu Luong itinerary, you should go along National Highway No.15C and 217 to visit Cam Luong Anglelfish Stream, from which you continue to Xuan Mai intersection (National Highway No.6) and go back to Hanoi. It is a little farther but safer and you can take the chance to admire more interesting sceneries. If time allows, visit Cuc Phuong National Park with a diverse system of flora and fauna.

Of the nice landscape on the roadway, tourists have a tendency to go on a motorbike to enjoy every moment during the itinerary.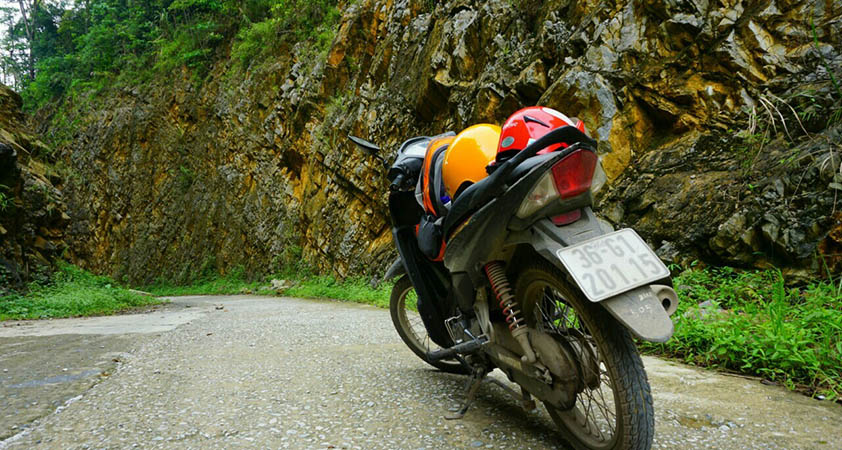 4. Activities in Pu Luong Thanh Hoa
4.1. Kho Muong Village - Bat Cave (Kho Muong Cave)
On the road to Pu Luong Mountain Peak, there is a wild and simple valley called Kho Muong. It is one of the remote villages in Muong Son Commune, Ba Thuoc District which is also the poorest one in the area. However, it has great potential for commune tourism thanks to the natural conditions and cultural traditions of the local residents.

The road to the village is meandering because it is still under construction. One side is the cliffs, and the other is a deep end with yellow terraces and endless green forests. There are about 60 families living in the area, most of them Thai ethnic minorities. Traditionally, they earn their living by growing rice, and corn,... self-sufficiently. Thanks to the dominance of natural resources, they have trained themselves to turn the village into an attractive tourism destination.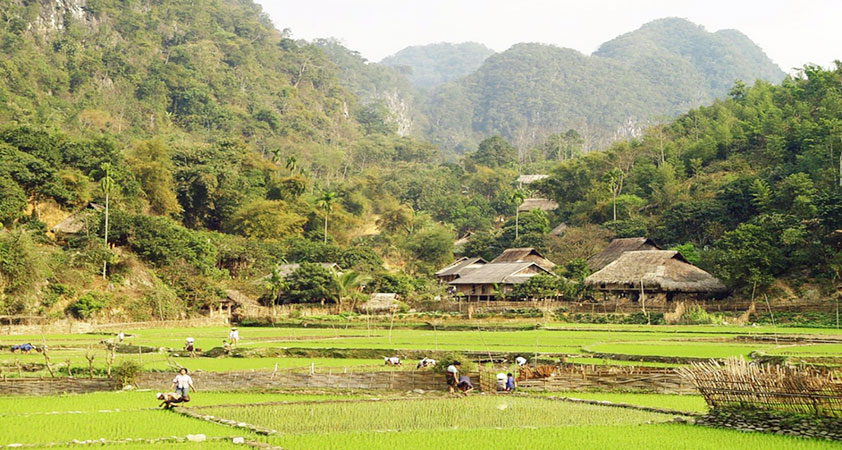 An impressive spot that tourists should not miss here is Kho Muong Cave. To reach the cave, you have to go through a perched path stretching for 100 meters. However, the cave heart is very wide, about 2,5 kilometers, with many small spaces sinking deeply into the ground. Hundreds of blocks of limestone have contributed millions of millions of years to fulfilling the shape of the cave.

Kho Muong Cave has another name Bat Cave (Hang Doi). It is because it is the home of many kinds of bats, at least four of them have been found at different times of the year. Entering deep into the cave, tourists will be attracted by hundreds of stalactites and stone blocks in various strange shapes, and in different magic colors. All create a lively and mysterious atmosphere.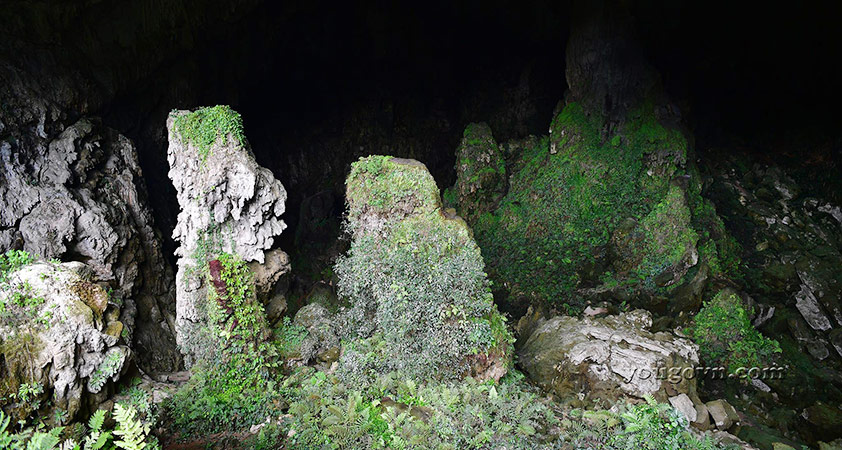 4.2. Hieu Village - Hieu Waterfall
Hieu Village and Hieu Waterfall are in Co Lung Commune, Ba Thuoc District, Thanh Hoa Province. Visiting Pu Luong Thanh Hoa when the rice ripes, you will certainly get surprised at the 25-kilometer roadway from Cang Nang town to Hieu village with endlessly yellow terraced on two roadsides, along two sides of the stream. Go through a wooden suspension bridge to enter the village.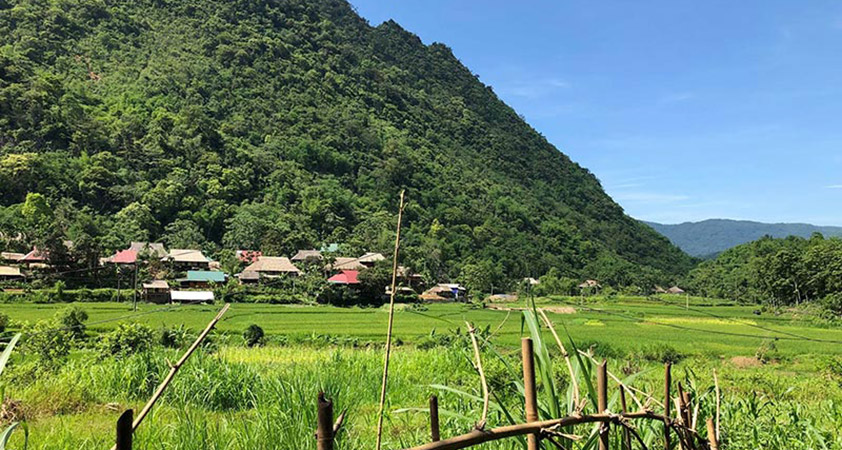 There are more than 100 houses scattered along two sides of the river alternating with white rapids behind, creating a picture of watercolors painting catching your eyes immediately.  The village is only one kilometer long but has up to five waterfalls, each of which has its own charming features that are completely different from the others. Therefore, local people give them the general name "Hieu Waterfall", and the stream is also called "Hieu Flow" instead of "Hieu Stream" as usual.

Both the waterfall and the stream are derived from the rocky cave in the limestone mountain range Pu Luong - Cuc Phuong, therefore, the water is especially fresh and blue. The waterfall's length is about 800 meters. From the peak's view, the flow is separated into two smaller ones in the mountain body and then they gather at the end. According to the locals, the stream is never out of water. It is blue all over the year, cool in summer and warm in winter.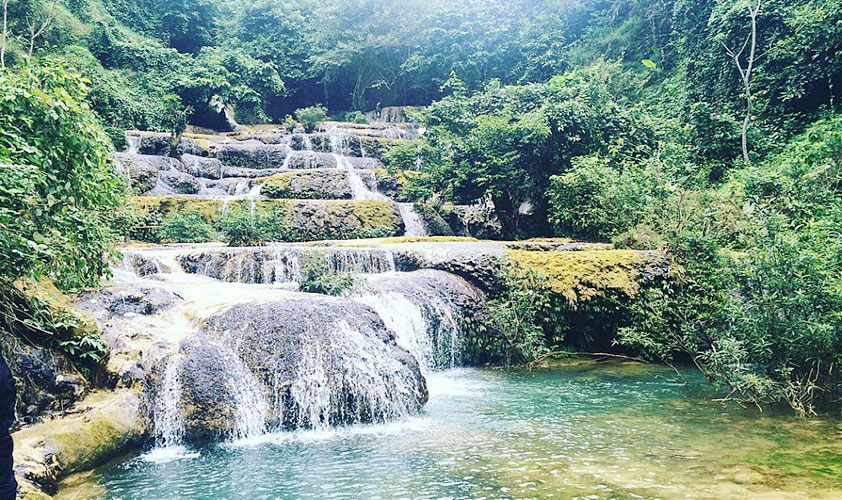 At the end of the waterfall is a small stream, the water level of which is one meter high. The bottom is covered with a sand layer, turning it into a natural lake for tourists to immerse in after a journey discovering the Hieu Waterfall peak.



Read more: things to do Halong Bay

4.3. Son - Ba - Muoi Village
Son - Ba - Muoi are three different mountainous villages in Lung Cao Commune. The place is 130 kilometers far from the city center and also known as a "mini Sapa" thanks to its moderate climate around the year. The average temperature is from 18 to 22°C. However, for its height, the weather is so cold in winter that sometimes snow falls when the temperature goes down to -1 or -2°C. In summer, it is cool in daylight but a little cold at night.

These three villages have another name Cao Son, belonging to the core area of Pu Luong Nature Reserve and located next to Ngoc Son - Ngo Luong Nature Reserve (Hoa Binh Province). They are called Cao Son, which means "a high mountain" in Vietnamese, because they are at the peak of Pha Le mountain range, at a height 1200 meters above sea level, paralleled with Pu Luong - Cuc Phuong range.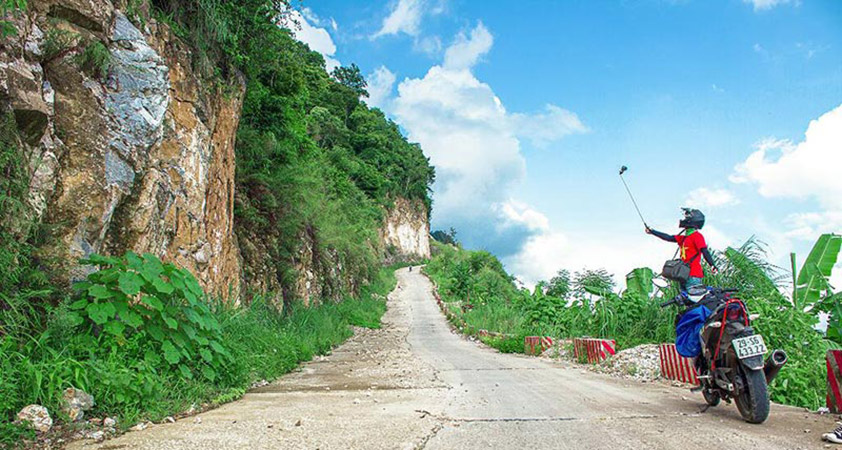 Not only the location but the challenging roadway to approach the place make the area almost isolated from others at the mountain foot. However, that also contributes to the naturally wild beauty of the area and makes it attractive to travelers who love challenges. Especially, there still maintain many traditional customs of the ancient Thai ethnic minority. Thai stilt house architecture is existing proof showing that it has not been affected by the outside so far.
4.4. Don Village (Thanh Lam Commune)
Don Village is the home of the Thai ethnic minority, including 76 homes (285 individuals), at an area of 125 hectares in Thanh Lam Commune, Ba Thuoc District. For the last two years, the number of tourists visiting the place is rising rapidly, among which the number of foreigners makes up 60%.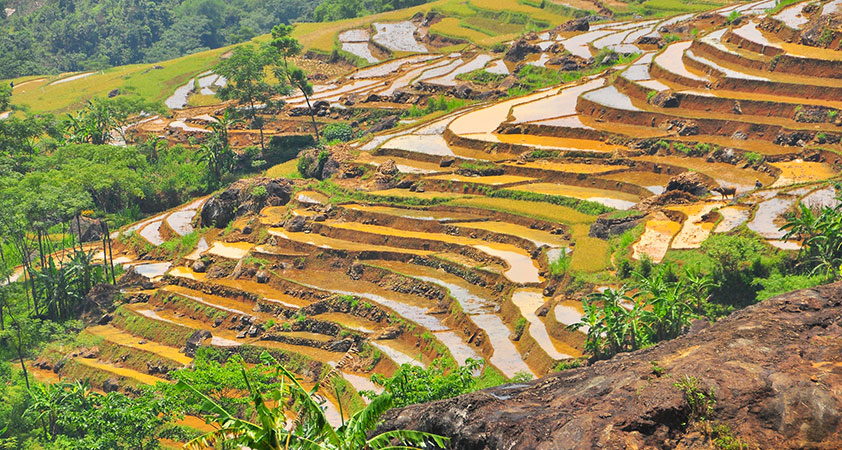 The attraction has a wild scenery, typical for terraces stretching endlessly and groups of houses located quietly along the hill foot. More impressively, tourists will have a chance to learn about the local traditional weaving, and taste some special flavors that you hardly find anywhere else: mountainous bamboo, field ducks, wild boars, mountainous chicken, and fish soup,... But what impresses you most may be the warm welcome and friendliness of the locals here.

From Don Village, you can have a walk or take a vehicle to visit other attractions in Ba Thuoc District such as Hieu Village, Kho Muong village...
4.5. Check-in on Pu Luong mountain peak
Also known as "the paradise among the mountains", the full-range scenery of Pu Luong is much more impressive with dew surrounding all the year. When you get up in the early morning, have a look through the window, and you will see clouds floating at the peak of the mountain, even in front of your eyes. Everything combines so well that you may get a feeling like in your dream, nothing moves, just the quietness of the landscape exists.

If you are a challenge lover, conquering the peak at 1700 meters high is the most exciting experience in Pu Luong Thanh Hoa. It takes about six to eight hours to reak the peak in nice weather conditions. However, it is worth it when you can admire the outstanding landscape of mountains and forests together with spotting stilts houses, and terraces in the valley on the mountain foot. Enjoy the feeling of fighting yourself to complete the challenging mission. Moreover, you can have a simple camping party and get overnight there before going down the next day.
4.6. Pho Doan market
If you visit the place on Thursday or Sunday, don't miss to join Pho Doan Market, which has been famous since the French period. It is located in Lung Niem Commune, Ba Thuoc District, Thanh Hoa Province. There take place trading activities, purchasing local products of Kinh, Muong, and Thai minorities from surrounding areas such as Tan Lac District, Lac Son District (Hoa Binh Province)...

Pho Doan is typical for mountainous markets with mostly self-sufficient products. They are quite simple but prevalent in kinds of products such as traditional silk costumes, tube wine, mountainous vegetables, and fresh fruits,...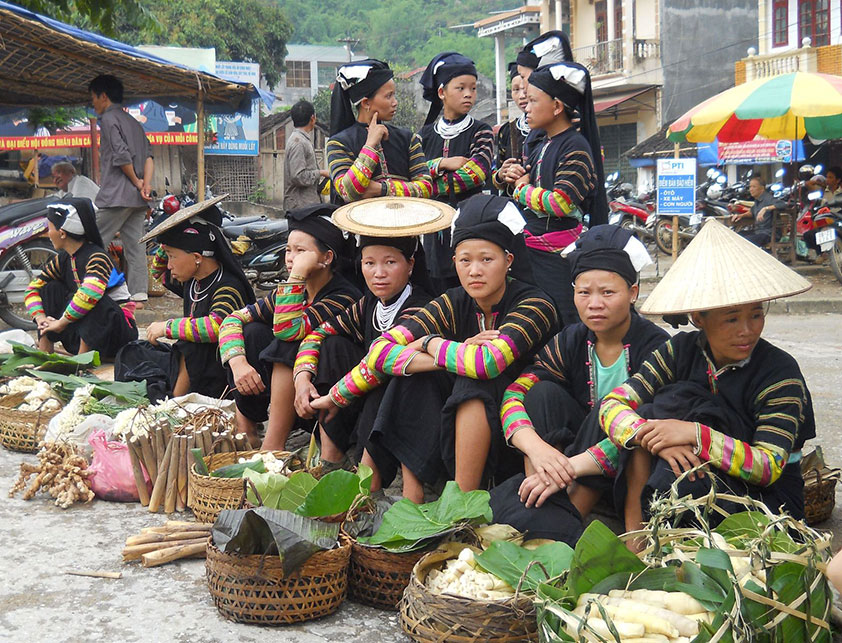 Especially, the impression is that local residents do not use the money for trading but exchange equivalent products with each other. For example, you can exchange a cock for twenty eggs and a number of vegetables if both are satisfied. They hardly haggle.
4.7. Muon Waterfall
Located 100 kilometers far from Thanh Hoa city, following National Highway No. 217 toward the high land, tourists will see Muon Waterfall, also known as Mo Waterfall, which means "exciting and dreamy" in Vietnamese. It is 500 meters high above the water level, and originates from the mountain peak at a height of 300 meters.

The flow arrives at a large valley, from which goes down to the hillsides, creating many succeeding grades of water like the white terraces.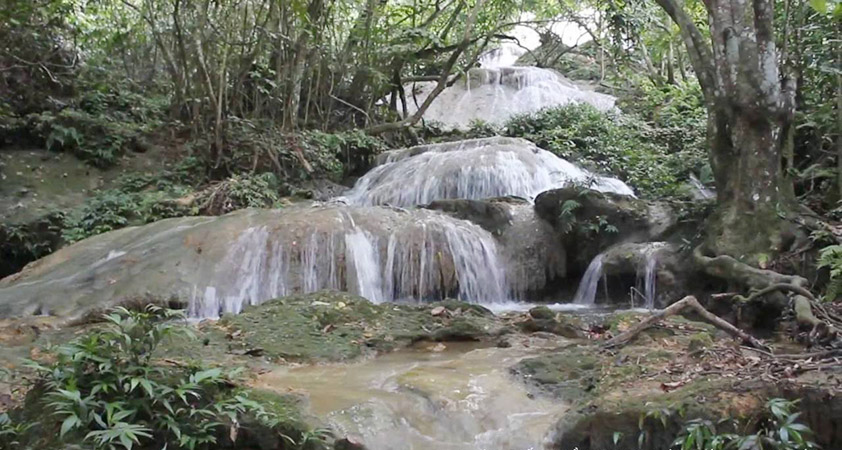 Going through these 43 grades at different sizes and heights with stone, water, and forest trees, the stream falls out to Dai Lan river, then contributes to Ma Giang river. Tourists can climb on these grades of the waterfall safely thanks to the typical stone features.

In addition to admiring the natural beauty of the landscape, tourists will listen to the story of love related to the attraction, meet the locals, and learn about the lifestyle and culture of the area. They are all warm-hearted and welcome tourists to come and have a nice experience here.
5. Hotels, resorts, and homestays in Pu Luong Thanh Hoa
There are no hotels in Pu Luong Thanh Hoa. Vice verse, homestay is more popular in the area, located mostly in Co Lung, Thanh Lam, Thanh Son, and Lung Cao Commune in Ba Thuoc District. Most of the homestays have collective rooms at the price of 100,000 to 150,000 VND per person each night. You will have a chance to experience daily life and try some special foods prepared by the house owners.

Recently, some resorts have been built up to meet the rising demands of high-qualified resort services. However, the price is quite high, about one to three million each night up to the grade you choose.
5.1. Resorts at Pu Luong Thanh Hoa
Puluong Retreat: Located in Pu Luong Nature Reserve, Puluong Retreat provides a peaceful space to relax among the green scenery of nature.
This has an outdoor infinity pool, restaurant, and gardens with lively blocks of stones. Tourists can admire the mountains and rice terraces from there.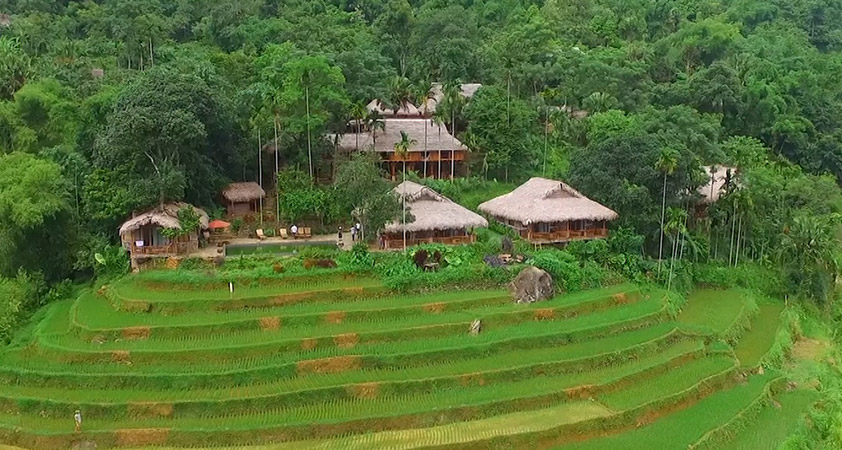 Ban Hieu Garden Lodge: Located in Hieu Village in Puluong Nature Reserve. Tourists can ride a bike to discover the area, take a bath at Hieu Stream, visit some villages where Thai ethnic minority lives, admire yellow terraced fields, go fishing and take part in outdoor activities,...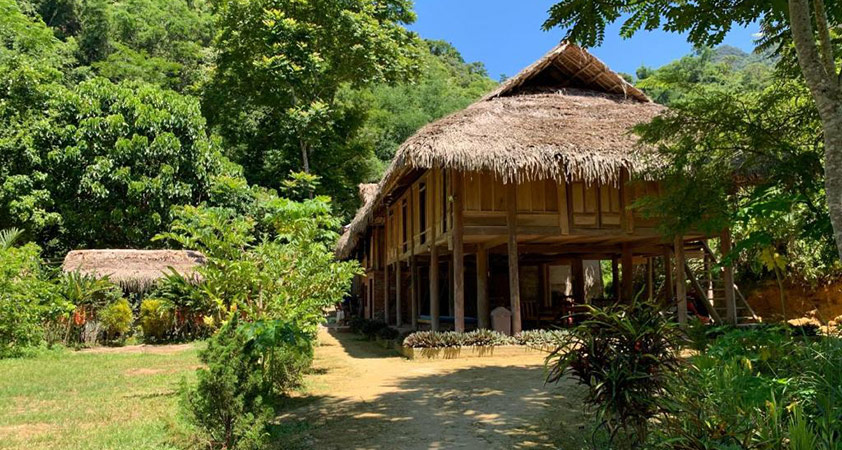 Puluong Natura Bungalow: With its dominance as a resort at the heart of nature, located in the wildest nature reserve in Northern Vietnam, together with the specific architecture, Puluong Natura is an ideal resort for a vacation to come closer to nature.
Located in Don Village, Ba Thuoc District, the resort has an area of 1800 square meters, the most unique infinity pool in Vietnam stays next to the terraced so that tourists can immerse themselves in the wild natural scenery.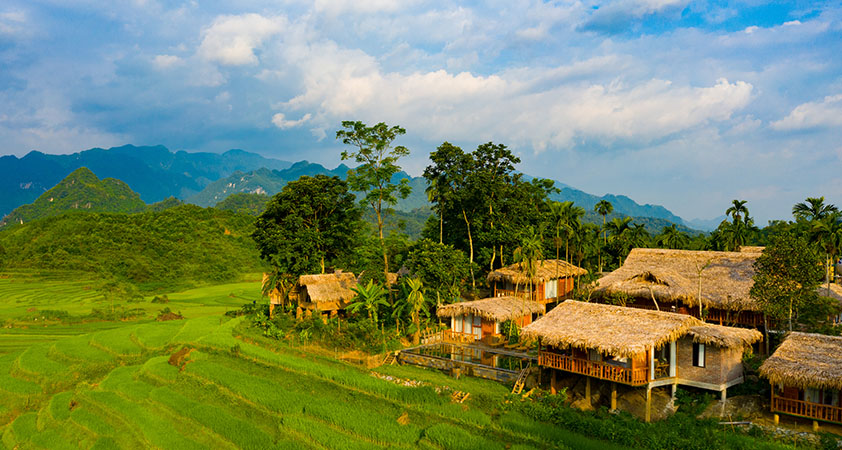 5.2. Homestays in Pu Luong Thanh Hoa
Pu Luong is quite large, due to your schedule that you can choose one of the villages to stay.  Consult some of them below:
Kho Muong Village: Mr. Nech (0945.801.124), Mr. Nam (0394.904.372), Mr. Thanh Tuan (0945801224).
Nua Village: Mr. Hoang (081.99.73.969), Mr. Minh (085.755.0703).
Kit Village: Mr. Thao  (0372.494.42).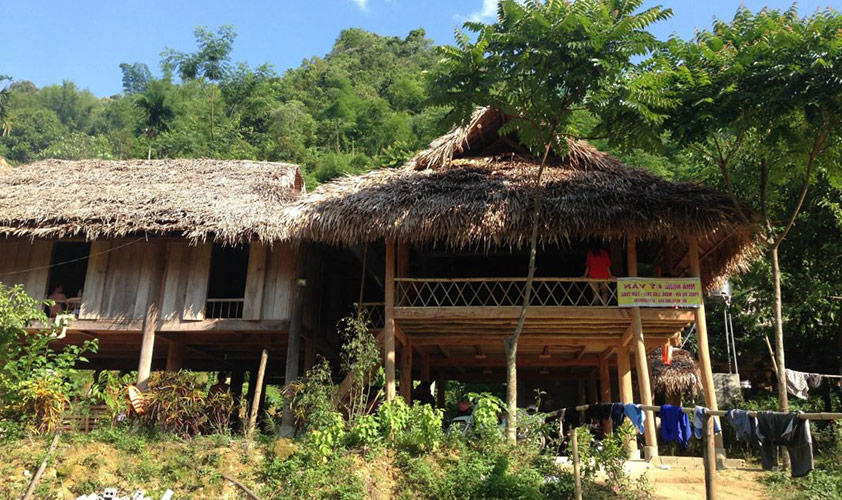 There are not too many homestays in the area. Therefore, you should book reservations in advance, especially at peak seasons.
Moreover, you can search for other homestays in surrounding areas like Mai Chau, from which you can easily access Pu Luong by motorbike or car.
6. What to each in Pu Luong Thanh Hoa ?
Because Pu Luong has developed tourism recently, restaurant services have not met current demands. Instead, you will have meals at your homestay prepared by the owners. The menu will be up to your choice. However, generally, there is local rice or sticky rice presented with some other specialties on a big leaf tray. The meal is typical for Thai minority food.
6.1. Co Lung duck
Co Lung duck is the main ingredient for many delicious dishes in Pu Luong Thanh Hoa. It is known for its small bones and attractive layers of meat. The locals let them freely find their food alongside the stream instead of feeding them every day, so the flavor is very special.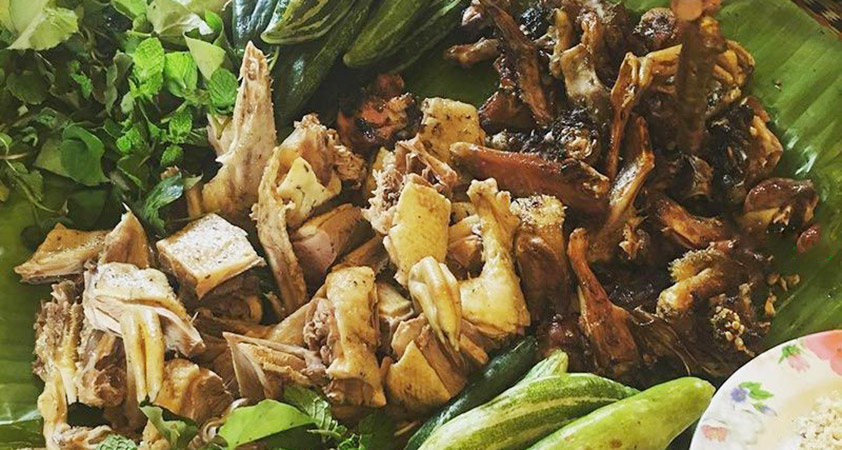 The most popular dish is roasted duck with a good smelling and greasy taste that tourists will find hard to forget after once trying it.
6.2. Roasted stream fish 
The fish is cleaned and marinated immediately after being caught. Special seasons taken from the forests are included to create a special flavor that is hard to imagine. It will be roasted on red ember and you can enjoy it in some minutes together with five-colored sticky rice and local corn wine.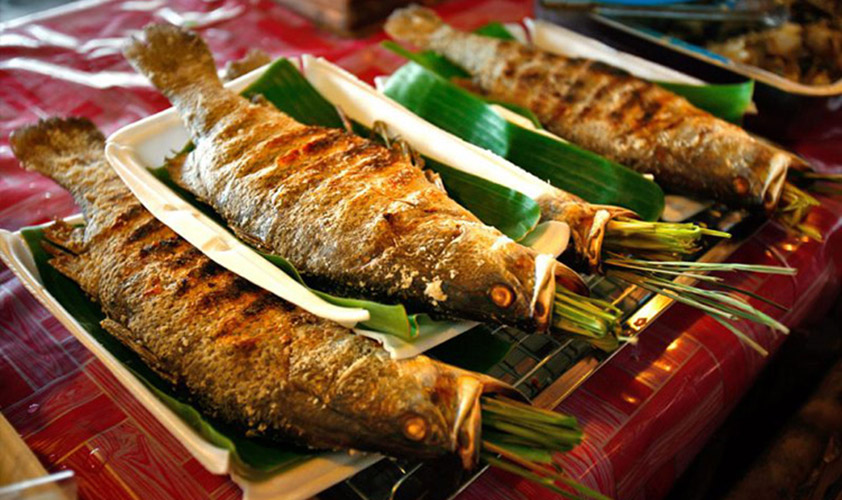 6.3. Bamboo-tube rice
Bamboo-tube rice is a popular food in the daily meals of the locals. What makes it so unique maybe the local flavoring of big-grain rice combined with the bamboo-tube.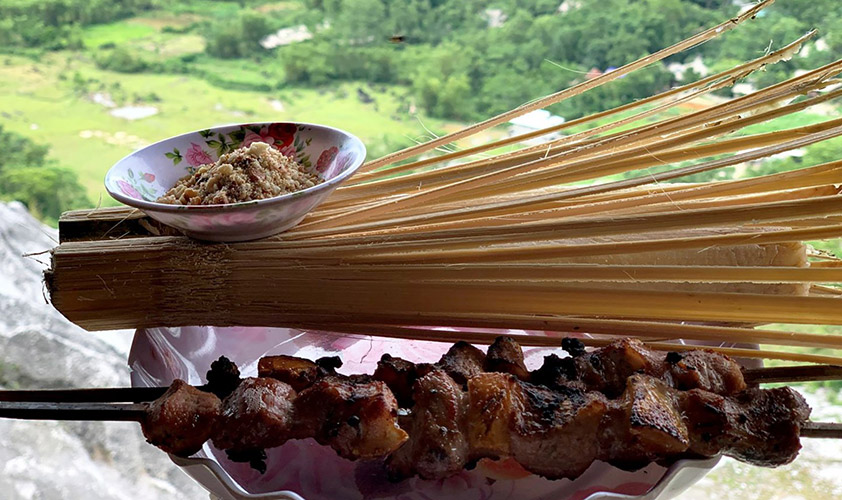 6.4. Hill chicken
The chickens are raised naturally on the hill, so the meat is flavoring and gentle. They are usually boiled and enjoyed immediately with local spices. Only local cooks know how to marinate the chicken in the right way to bring about such a unique flavor.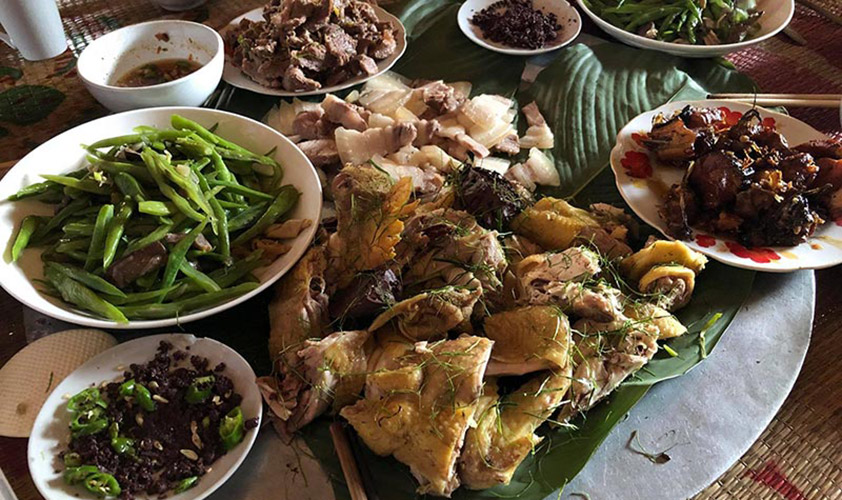 6.5. Bitter bamboo shoots
In spring, local residents will go to forests to get bitter bamboo shoots which are naturally bitter but surprisingly turns sweet after that. However, the food only becomes perfect when it is combined with a special season in the area.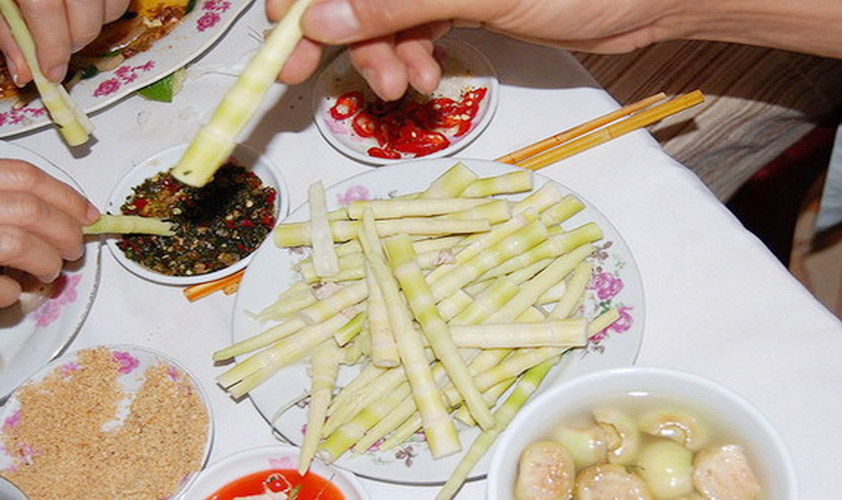 6.6. Roasted piglet
It is a local farm animal of Muong ethnic minority. It is hard to keep the originally gentle flavor of the meat in a complex recipe, which also makes the food loved by tourists from all over the world.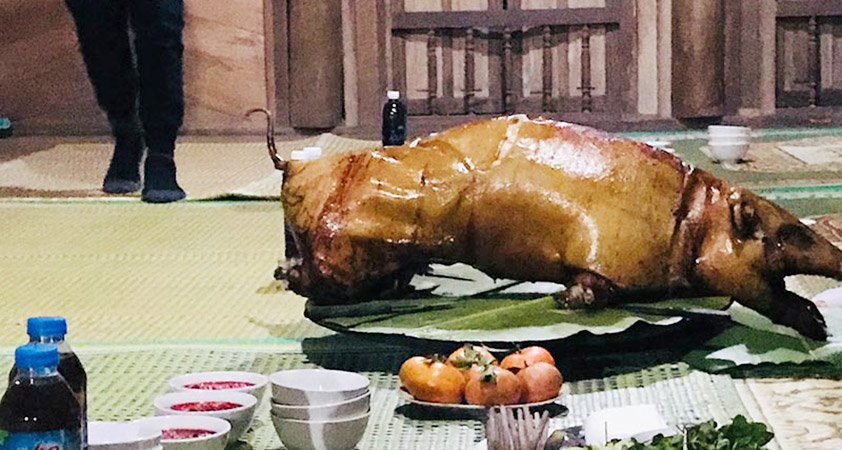 6.7. Can Wine (Tube wine)
Tube wine is a special fermented rice wine of Pu Luong Thanh Hoa. This special spicy and sweet combination between cassava yeast and local stream water will certainly bore in tourists' minds when someone mentions Vietnam.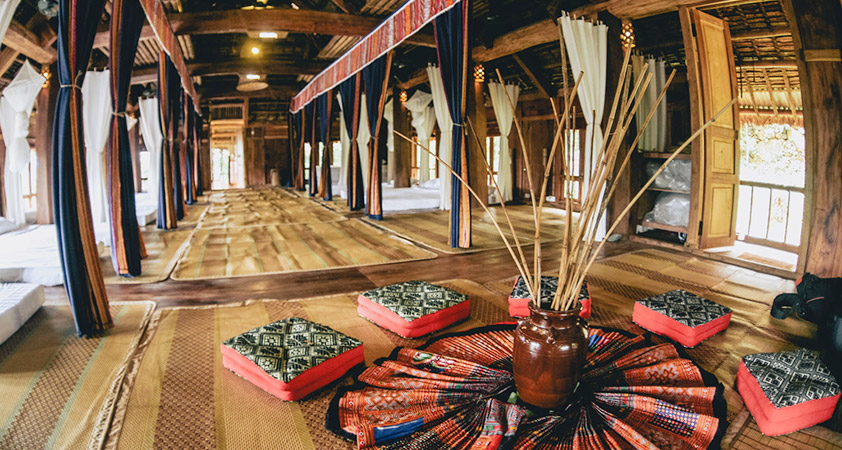 7. Pu Luong Thanh Hoa travel itinerary
Many different choices of schedule, time, and vehicles,... are available for a tour to Pu Luong Thanh Hoa. Below are some popular recommendations: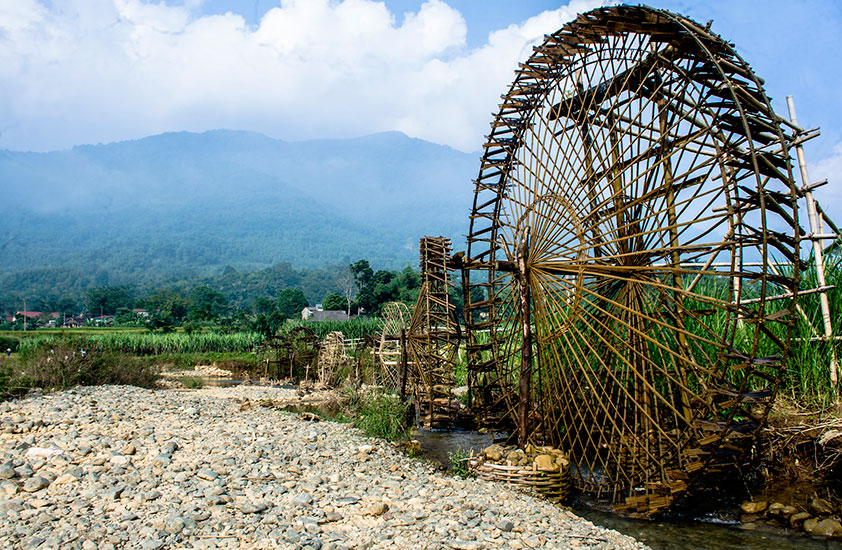 7.1. Pu Luong Thanh Hoa 01 day itinerary
Nang Cang Town - Silk weaving Lung Niem Village - Kit Village - Nua Village
Cang Nang Town - La Han Bridge - Pho Doan Market - Son, Ba, Muong Village
Don Village - Bang Village - Doi Cave - Kho Muong Village
Gioi Pagoda, Ai Thuong - Ba Thuoc 2 Hydropower Construction - Dan Long Waterfall
Ong Pagoda - Phi Cave - Vinh Quang Lake - Hang Village
7.2. Pu Luong Thanh Hoa 02 days 01-night itinerary
Day 1: Hanoi - Mai Chau - Pu Luong Thanh Hoa: Have a trekking tour through villages and take a boat on Cham river
Day 2: Pu Luong Thanh Hoa discovery: Have a walking tour in Kho Muong Village and Doi Cave, discover the culture of Thai ethnic minorities, and check-in at nice attractions.
7.3. Interprovincial tour in 03 days 02 nights
Hanoi - Mai Chau (Hoa Binh Province) - Hieu Village - Don Village
Hanoi - Mai Chau (Hoa Binh Province)  - Son, Ba, Muong Village - Nua Village
Hanoi - Mai Chau (Hoa Binh Province) - En Village - Hang Village
Hanoi - Cuc Phuong National Park (Ninh Binh Province) - Cam Luong Angelfish Stream - Hieu Village - Don Village - Kho Muong Village.

To have a perfect journey, tourists should have careful preparation:
Walking/sport/ climbing shoes which are bound to your feet comfortably and absorbently.
Bring more clothes if you tend to take a bath in Hieu Waterfall
Bring along medicines, sunblocks, antifungals, and insect repellents for a forest discovery journey.
Follow weather conditions before going to the forests.
Fill up the tank before reaching Pu Luong.
If the reservations are not available at that time, you can even ask to stay in a local house. They are all warm-hearted and welcome you to come and discover their lovely homeland.
Related posts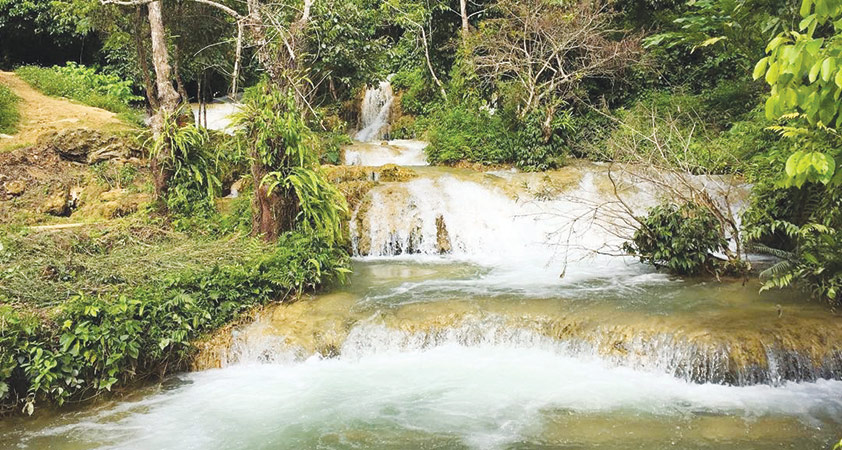 Blog
Immerse in the bewitching beauty of Hieu Waterfall in Pu Luong Thanh Hoa
Date: 24 Oct 2019
|
2.378 Views
Thanh Hoa Province attracts thousands of tourists to visit every year not only for its majestic mountainous landscape, its unique traditional culture but also for another famous attraction: Hieu Village. The place is impressive with its dreamy scenery of endless rice terraces. Moreover, there is Hieu Waterfall, which is known as one of the most beautiful waterfalls in the area. Come to admire the wonder and enjoy Co Lung roasted duck with special flavor you can find nowhere else.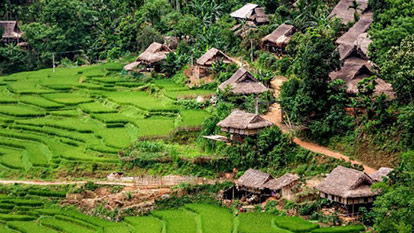 Blog
Find the hidden charm of Kho Muong Village in Pu Luong, Thanh Hoa
Date: 23 Oct 2019
|
2.660 Views
Kho Muong is a wild valley hidden deep in Pu Luong Mountain, Thanh Hoa Province. On the journey discovering Puluong Thanh Hoa, do not forget to visit the attraction to admire endless terraces of rice and streams winding through the mountain.
Newspapers write about us