Immerse in the bewitching beauty of Hieu Waterfall in Pu Luong Thanh Hoa
Thanh Hoa Province attracts thousands of tourists to visit every year not only for its majestic mountainous landscape, its unique traditional culture but also for another famous attraction: Hieu Village. The place is impressive with its dreamy scenery of endless rice terraces. Moreover, there is Hieu Waterfall, which is known as one of the most beautiful waterfalls in the area. Come to admire the wonder and enjoy Co Lung roasted duck with special flavor you can find nowhere else.
 

1. Hieu Waterfall Overview
Just about 180 kilometers far from Hanoi Capital City,
Hieu Waterfall
hides among
Pu Luong Nature Reserve
. There are a wide range of limestone mountains and original forests to keep the climate cool and fresh around the year. Besides, some small villages with wooden stilt houses and yellow terraced fields also contribute to this atractiveness.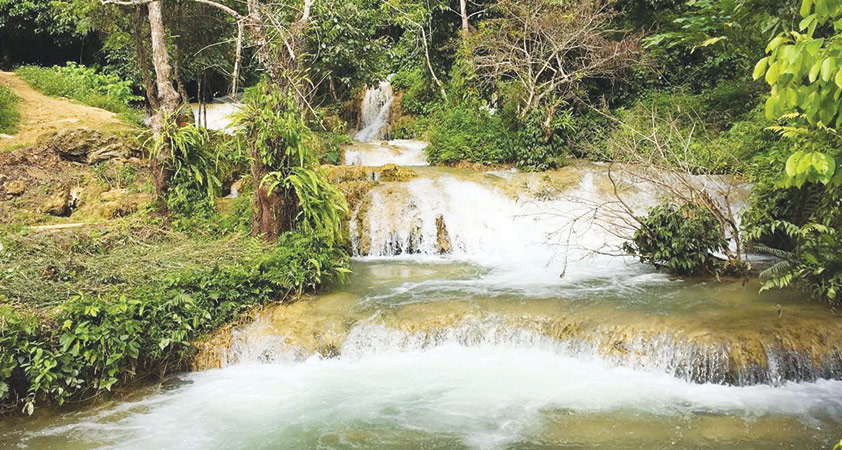 To reach Co Lung Commune
center, you fellow the road from Cang Nang town and
La Han Bridge, then continue a small road to reach the destination. On the journey, do not forget to admire the surroundings with rice terraces alongside a small stream, which is typical for the beauty of
Pu Luong Thanh Hoa
tour.

2. Discover the unique attractiveness of Hieu Waterfall
"Hieu", in local language, means a tottery land, also the terrain of the place. It is about 800 meters high originating from a rocky cave in Pu Luong limestone mountains. The flow brings along limy soils on the journey so that two sides of the waterall looks like petrified, attracting curiousity from any tourists going across.
In every season, the attraction has its own charming features. The mountains change their coat in different color when new season comes. In summer, the water is clear, cool and sparkling under the sunlights but it will turn warm in winter. In rainy season, the waterfall is so fierce that water becomes opaque white due to the limestones disorved. When rains stop, it keeps a gentle beauty in blue water.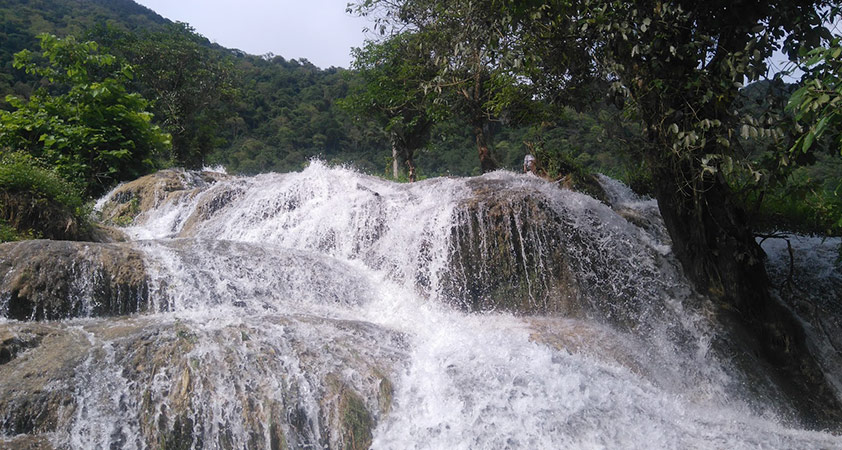 It takes about one hour to climb the mountain alongside the waterfall to admire the view from the peak. The flow is divided into two smaller ones at the body and then they gather at the end, where you see a natural "lake". After the journey, you can have a break there. The water level is only one meter, so whoever is really a glutton for punishment can have exciting moments here.
Only when standing on the peak mountain can you see all the majesty of the scenery. It is a perfect combination between mountains and clouds. Looking down at the foot, there are stilt houses, rice terraces, water flowing, simple bridges,... All make it a unique experience in
Hieu Waterfall
that is worth visiting once in a lifetime.

Read more:
things to do Halong Bay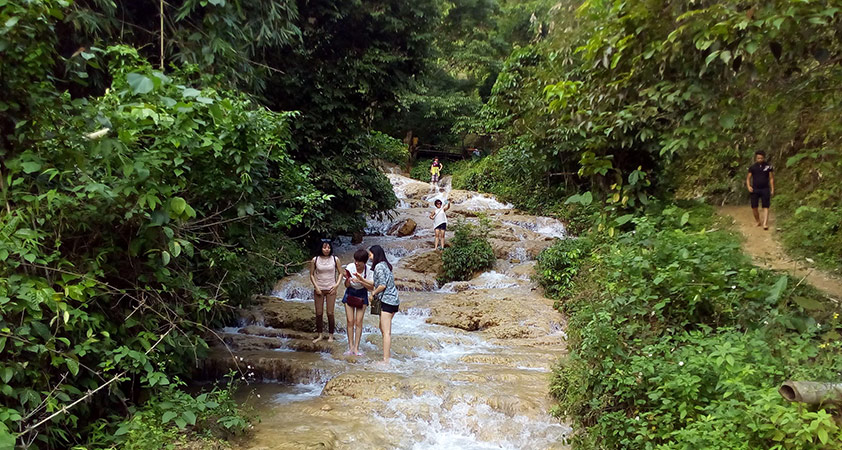 Especially, hidden behind the waterfall are three natural caves deep in the mountain. One of them is Love Cave, which is full of gittery stalactites in full-range colors.

3. Enjoy the specialty Co Lung roasted duck in Hieu Village
Another attractiveness in
Hieu Waterfall
in Ba Thuoc District, Thanh Hoa Province is a set of local specialties. After getting immersed in the wild and fresh atmosphere in the attraction, you will come back to a stilt house where the meal has been carefully prepared. Local tube-wine may firstly attract your eyes. Then try bamboo shoot soup which is taken from high mountains and impresses you by its gently sweet taste.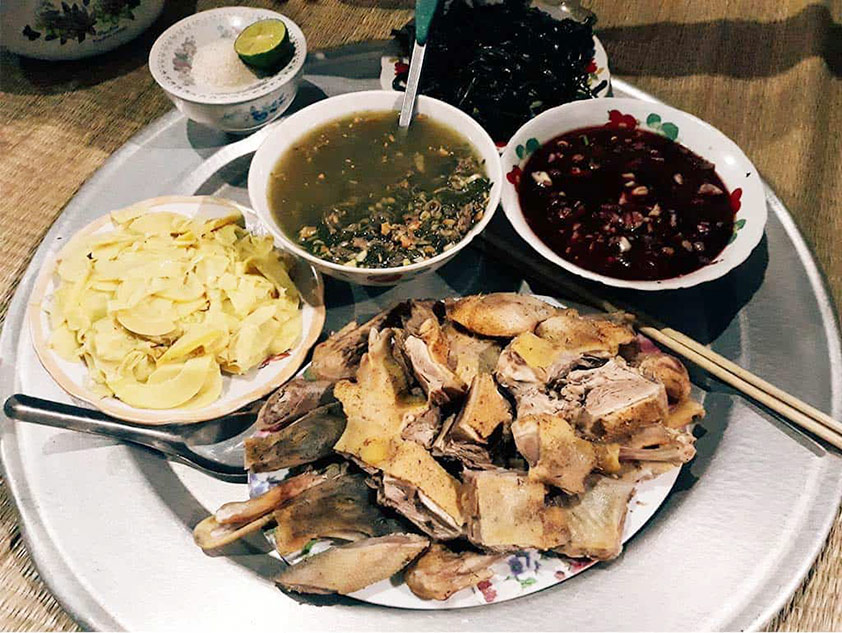 However, the most famous specialty in local meals is
Co Lung duck
. It is a kind of duck which has short neck, short and small legs. The ducks are raised freely on endless rice fields, so their meat is lean, yummy and much more importantly, it is completely free from industrial products.
The ducks are turned into different dishes with different flavors, but the most famous one is flavoring roasted duck. It is marinaded with many local ingredients from the forests and then roasted on ember. When it ripes, the fragrance spreads out and the meat turns into sepia color, appetizing any demanding tourists.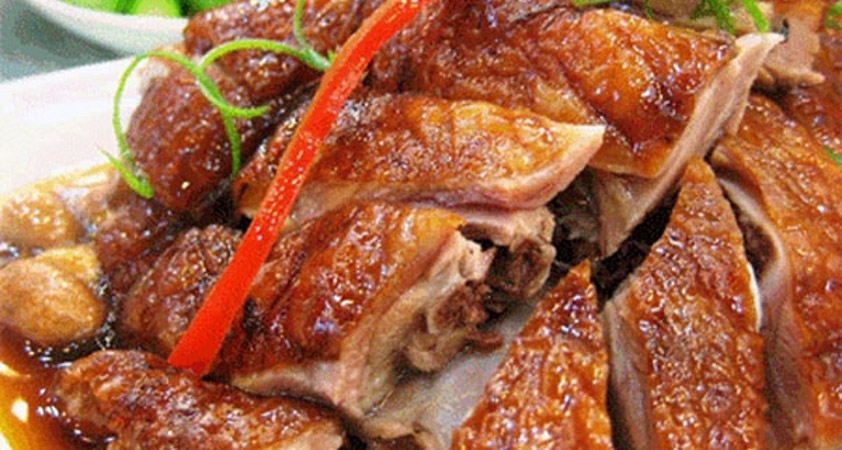 With the dominance in the sceneery that Mother Nature gives, Co Lung has a special potential in ecotourism to attract not only domestic but also foreign travelers from all over the world. From Hieu Waterfall, tourists can continue to visit
Pho Doan Market
, a mountainous market in Ba Thuoc District. It is only open on Thursday and Sunday morning, providing mountainous specialties such as bee honest, forest bamboo shoot, rocky snails,... Or to have a longer itinerary, from Hanoi, you should have a tour to
Mai Chau
(Hoa Binh Province) to Kit Village, Lung Cao
(Ba Thuoc District), through
Hieu Waterfall
then reach Ma Cave
(Coc Village, Hoi Xuan town, Quan Hoa District) and other attractions in the area.
Related posts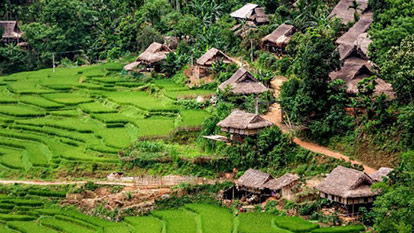 Blog
Find the hidden charm of Kho Muong Village in Pu Luong, Thanh Hoa
Date: 23 Oct 2019
|
1.937 Views
Kho Muong is a wild valley hidden deep in Pu Luong Mountain, Thanh Hoa Province. On the journey discovering Puluong Thanh Hoa, do not forget to visit the attraction to admire endless terraces of rice and streams winding through the mountain.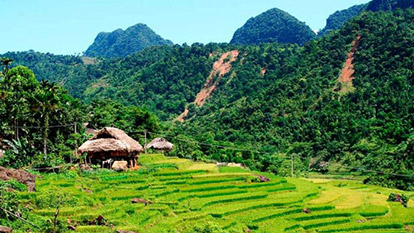 Blog
Things to do in Pu Luong Thanh Hoa Vietnam from A to Z
Date: 16 Oct 2019
|
7.143 Views
You are searching for somewhere to hide from the heat in your city and leave behind all the stress you have to deal with every day? It is not in any distant land but Pu Luong Thanh Hoa that you can immerse in the wild beauty of mountains and forests, get some fresh breezes and admire all the charming combination of nature. Our travel guide to Pu Luong Thanh Hoa below will certainly give you all the necessary information to have a wonderful vacation with your friends and family this week.
Newspapers write about us